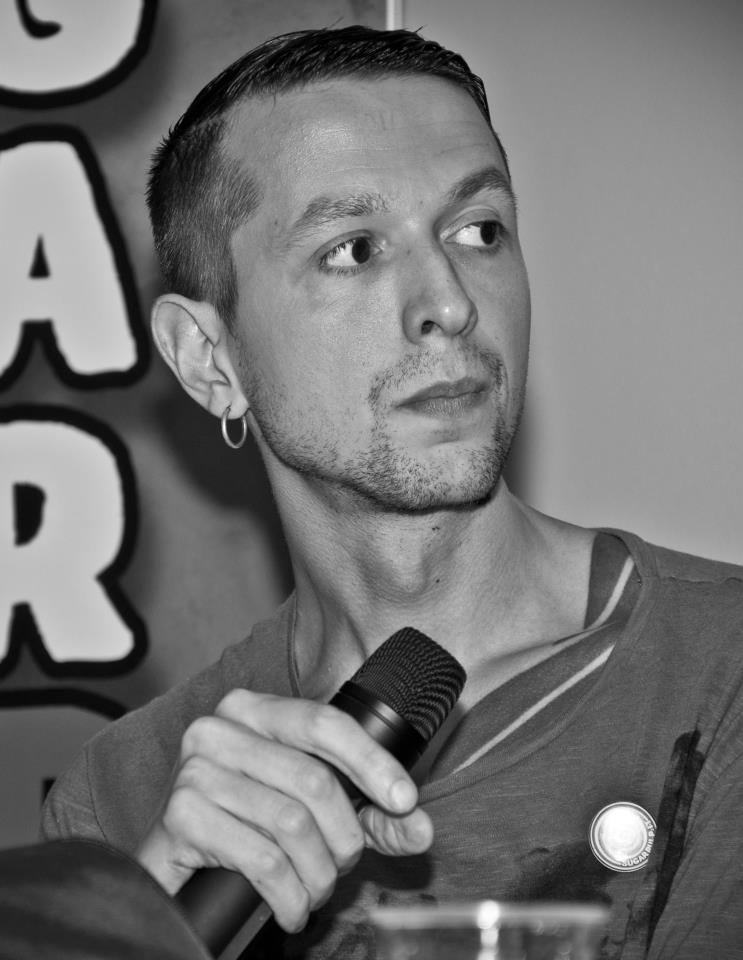 Sono nato a Taranto, nel 1978.
Dal 2001 collaboro con importanti editori, in Italia, Francia e Stati Uniti.
Nel 2007 ho illustrato BRENDON e SAGUARO, due fumetti italiani, pubblicati da SERGIO BONELLI EDITORE.
Nel 2008 ho lavorato per MARVEL COMICS, su gravi questioni popolari come: CAPTAIN AMERICA & HAWKEYE, AVENGERS ARENA, SEAR ITSELF: HOMEFRONT - NEW WARRIOS, MEDICO VOODOO, DAKEN e molti altri.
Ho avuto una delle esperienze più importanti per quanto riguarda il mio lavoro come artista: GUERRIERI SEGRETI, scritto da Jonathan Hickman e pubblicato da MARVEL COMICS.
Nel 2013 ho anche avuto il piacere di disegnare diversi numeri di RED LANTERNS, scritto da CHARLES SOULE e pubblicato da DC COMICS.
Nel 2012, io e il mio amico MATTEO STRUKUL abbiamo creato insieme RED DREAD, pubblicato da LATERAL STUDIO.
Nel 2014 mi è stato chiesto da PANINI COMICS di realizzare le illustrazioni di una miniserie, IL RAGAZZO INVISIBILE (The Invisible Boy) basato sul film di GABRIELE SALVATORES.
Nel 2016 sono stato onorato di illustrare SUICIDERS: Kings of HelL.A., una miniserie scritta (e precedentemente anche illustrata) da LEE BERMEJO, per VERTIGO / DC COMICS.
Ho realizzato le pagine per la serie ICEMAN, scritta da SINA GRACE e pubblicato da MARVEL COMICS.
In seguito ho collaborato con Andy Diggle alla realizzazione della miniserie intitolata HARDCORE per la SKYBOUND. Progetto ideato da Robert Kirkmann e Marc Silvestri.
Successivamente ho realizzato storie brevi per Marvel e DC disegnando Winter Soldier, Hellblazer e Wonder Woman.
Attualmente sto realizzando la miniserie dedicata a TASKMASTER per la Marvel.
I was born in Taranto in 1978.
Since 2001 I have collaborated with important publishers in Italy, France and the United States.
In 2007 I illustrated BRENDON and SAGUARO, two Italian comics, published by SERGIO BONELLI EDITORE.
In 2008 I worked for MARVEL COMICS, on serious popular issues such as: CAPTAIN AMERICA & HAWKEYE, AVENGERS ARENA, SEAR ITSELF: HOMEFRONT - NEW WARRIOS, DOCTOR VOODOO, DAKEN and many others.
I had one of the most important experiences regarding my work as an artist: SECRET WARRIORS, written by Jonathan Hickman and published by MARVEL COMICS.
In 2013 I also had the pleasure of drawing several RED LANTERNS issues, written by CHARLES SOULE and published by DC COMICS.
In 2012, my friend MATTEO STRUKUL and I created RED DREAD together, published by LATERAL STUDIO.
In 2014 I was asked by PANINI COMICS to make the illustrations of a miniseries, THE INVISIBLE BOY (The Invisible Boy) based on the film by GABRIELE SALVATORES.
In 2016 I was honored to illustrate SUICIDERS: Kings of HelL.A., a miniseries written (and previously illustrated) by LEE BERMEJO, for VERTIGO / DC COMICS.
I made the pages for the ICEMAN series, written by SINA GRACE and published by MARVEL COMICS.
Later I collaborated with Andy Diggle on the realization of the miniseries entitled HARDCORE for the SKYBOUND. Project conceived by Robert Kirkmann and Marc Silvestri.
Later I made short stories for Marvel and DC drawing Winter Soldier, Hellblazer and Wonder Woman.
I am currently making the miniseries dedicated to TASKMASTER for Marvel and written by Jed MacKay.
[/one_half][/fullwidth] [/fusion_text]